Colors on your devices or through printing might appear differently than they do on this page. 
"Space Place_" (2020)

"Duck and Cover" © 2020 by M. C. Jonet & L. A. Williams is licensed under Attribution-NonCommercial 4.0 International 
"Duck and Cover"
"Duck and Cover" is a digital collage that uses the astronaut as a construct of a queer renegade future and as a sign of queer reclamations of camp, "sci-fi" pulp, and other pop cultural space tropes. Referencing "Cold War" propaganda campaigns in mid-century USA to "duck and cover" in the event of a Soviet nuclear strike, this image locates the astronaut, in full cover, reliving a similar practice in our current era in an attempt to avoid becoming infected with SARS-CoV-2 or developing COVID-19. Enlarged depictions of SARS-CoV-2 encompass the image to demonstrate the large-scale threat of the virus. The astronaut and the SARS-CoV-2 are the same color to communicate the immediacy and menace of the disease's presence. The astronaut, while covered, reaches for a floating mask as a symbol of hope and continuation. 
The images in the "Space Place_"  series are created for World AIDS Day on December 1, 2020 and in observance of the continued COIVD-19 pandemic. Some images in this series will appear in a forthcoming essay about queer methods we employ in digital pedagogy.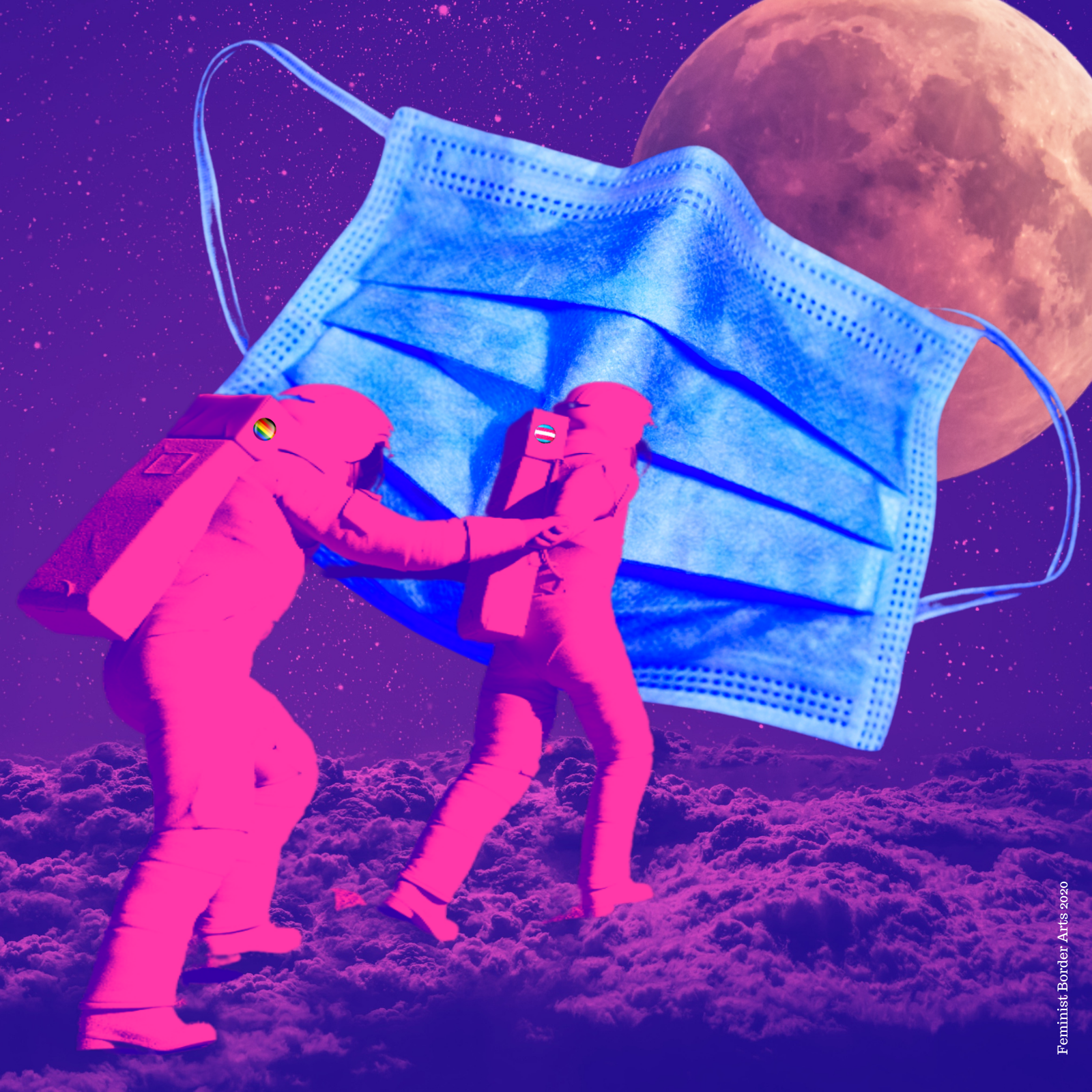 "Love in the Time of Corona" © 2020 by M. C. Jonet & L. A. Willaims is licensed under CC BY-NC 4.0 
"Love in the Time of Corona"
"Love in the Time of Corona" depicts two femme astronauts of any gender running off in a playful manner toward a large-scale mask that hovers between them and the moon. One astronaut wears a patch on the selves featuring the Transgender Pride flag, while the other astronaut wears one bearing the Philadelphia Pride flag, which contains additional black and brown stripes to highlight the existence and participation of Black and Brown LGBTQ+ peoples.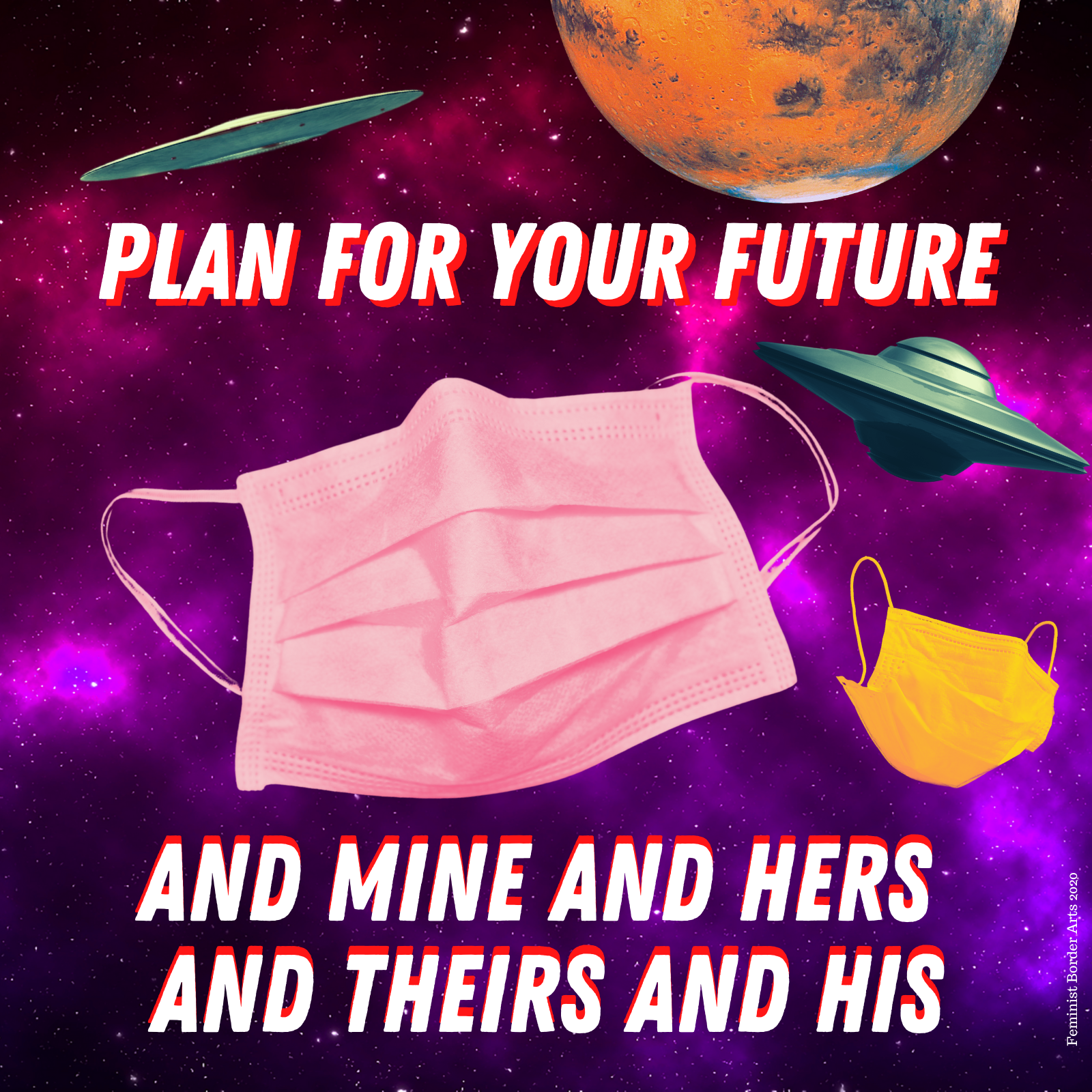 "Future Plans" © 2020 by M. C. Jonet & L. A. Willaims is licensed under CC BY-NC 4.0 
"Future Plans"
This digital collage features stylized masks hovering in a scene evocative of mid-century "sci-fi" with an enlarged planet and UFOs. These images connect to queer cultural reclamations of camp, "bad" sci-fi, and political movements embracing futurity and worldmaking. The colors in the image evoke the colors of LGBTQ+ Pride flags that represent non-binary gender identities, such as Nonbinary Pride flag, the Gender Fluid Pride flag, and the Gender Queer Pride flag. Moreover, the collage contains an overlay stating that one should, "Plan for your future - And mine and hers and theirs and his," which purposefully situates the pronoun "they" in the phrase as a singular pronoun.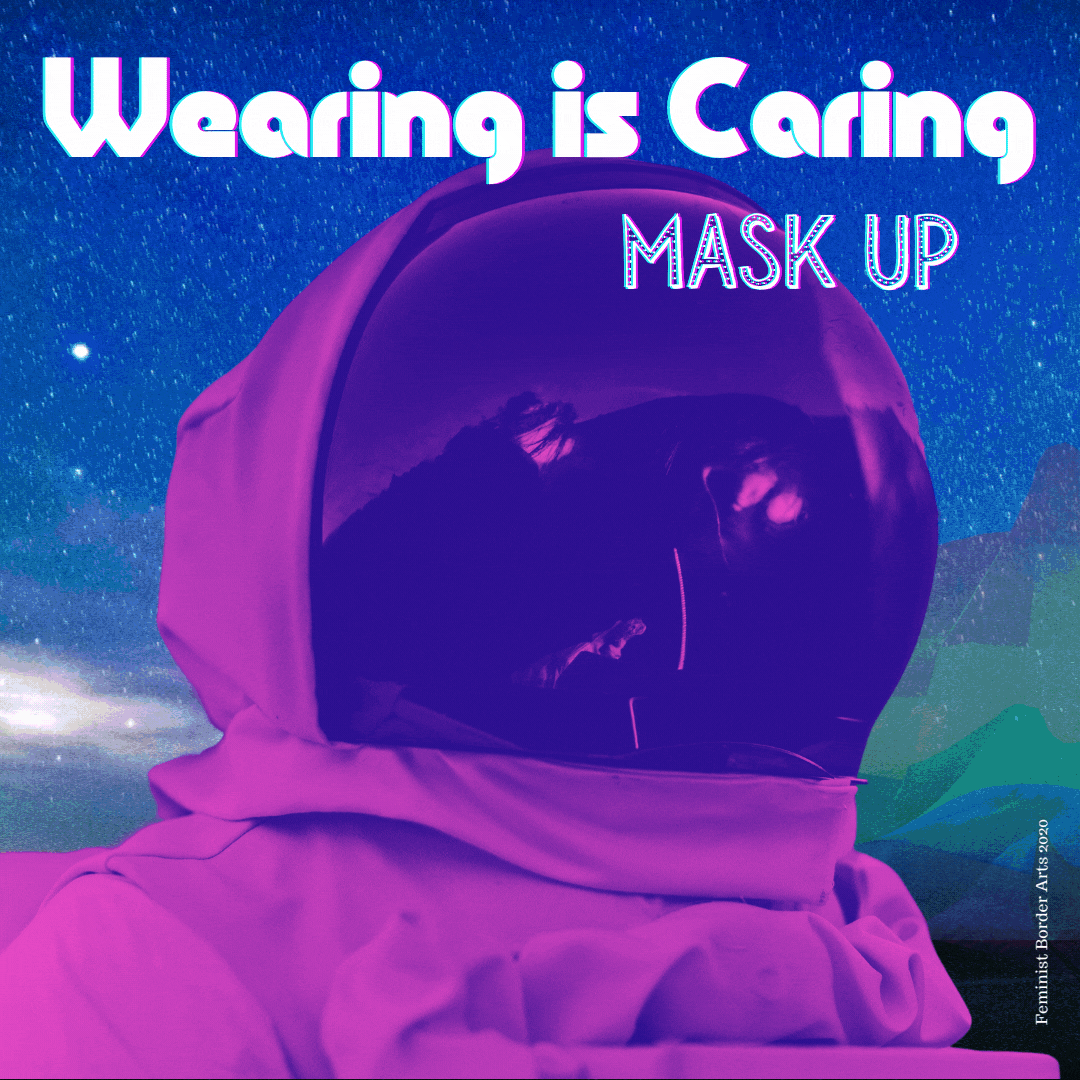 "Wearing Is Caring" © 2020 by M. C. Jonet & L. A. Willaims is licensed under CC BY-NC 4.0 
"Wearing Is Caring"
"Wearing Is Caring" is a piece in a digital collage series that imagines a visual language for the renegade drama of queer futurity in an alternate "space" place and time. Evoking both transmedial "sci-fi" pulp from 1950s-1980s as well as US-Soviet "space race" and "Cold War" propaganda, which have historically relied on anti-LGBTQ+ moral panic and exclusion, this image portrays an anonymous astronaut against the background of an LGBTQ+ Pride rainbow flag to evoke patriotic and nationalist claims on the future. However, with the overlay of the phrases "Wearing is Caring" and "Mask Up," this piece signals directly to '80's and '90's queer arts activisms and AIDS awareness campaigns, like ActUp, that encouraged condom use, raised public awareness about governmental inaction and scorn, and formulated a queer language of public protest. In this graphic, the astronaut's helmet conjures a similar message for queers to wear masks and socially distance to survive the COVID-19 pandemic.