View this year's special digital event right here or on YouTube. 
---
The Feminist Border Arts Film Festival (FBAFF) celebrates the power of cinema and video as creative tools to reflect upon social issues and thought-provoking representations of identity and difference. Our curated festival programs are frequently streamed online and screened through collaborations with partners. NMSU University Art Museum, NMSU Creative Media Institute, 516 ARTS, The Guild Cinema, and IndieFilm have supported FBAFF through now more than seven seasons of transnational, socially aware, and artistically significant short film. The festival continues to expand through mobile video, streaming, and digital downloads in order to circulate selected films to wider audiences and to provide access to more people.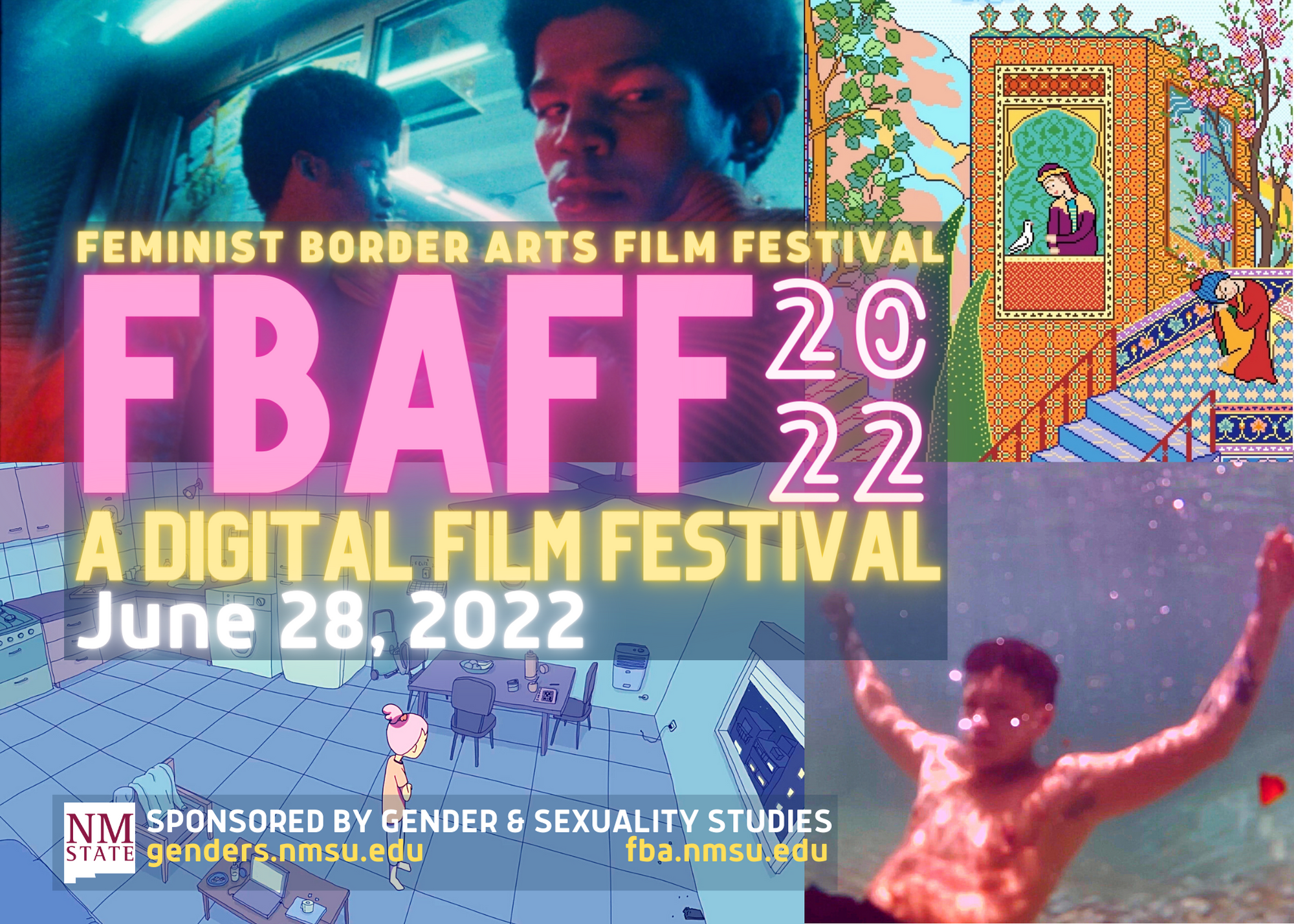 What is solidarity? What groups, topics, and issues need to be addressed? Who or what is often left out of such calls? What is feminist solidarity? What is LGBTQIA+ solidarity? How to express solidarity between different movements, groups, and issues? What happens if we do not? What can happen if we do turn toward collectivity, mutuality, empathy, and love? What change does change make? We are an academic film festival who still believes that film and visual media "are like a machine that generates empathy" (Roger Ebert).

This is a special digital Pride event. FBAFF's #SolidarityShorts will be screened online through YouTube on June 28th, International Pride Day and in honor of the Stonewall Riots Anniversary. Subscribe to our YouTube channel or access the 1 hr program through fba.nmsu.edu and genders.nmsu.edu. Films will screen from 10am (USA Mountain Time) through midnight on International Pride Day. 
In the spirit of the original Pride and the Stonewall Riots, these short films seek to connect and juxtapose a range of different experiences, aesthetics, genres, and issues facing LGBTQIA+ peoples as well as other marginalized, threatened, and underrepresented peoples and groups. These #SolidarityShorts signify different perspectives--wonder, awareness, kindness, knowledge, seriousness, desire, & fun--and each film runs under 3 minutes.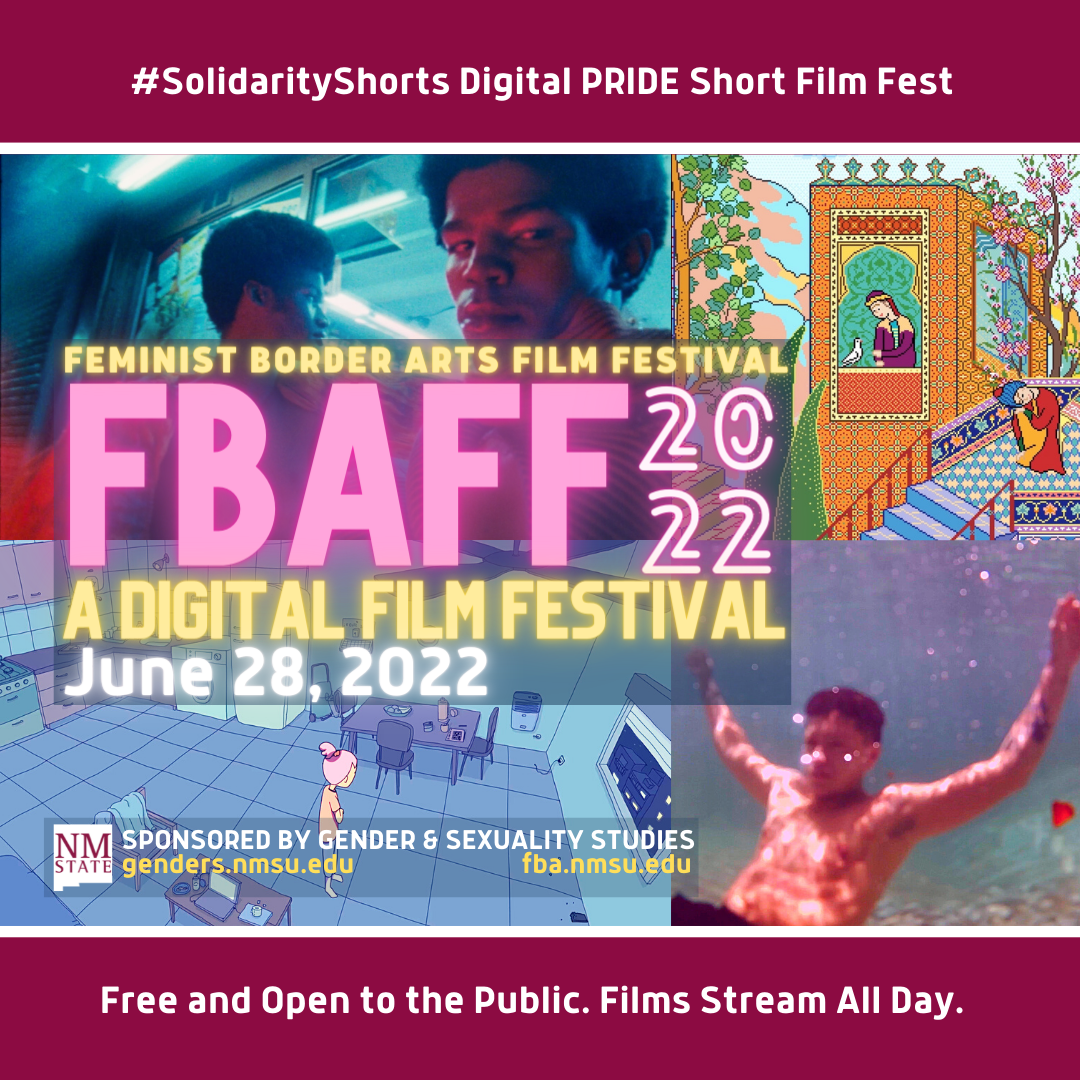 The festival emphasizes artistic vision in telling these stories through short film, including live-action narrative, documentary, essay film, video art, experimental film, and animation. The festival showcases student, indie, and studio filmmakers/new media digital artists, domestic and international.

Located in New Mexico—a state that includes nineteen sovereign Pueblo nations and is situated less than 50 miles from the U.S./Mexico border—the festival defines "feminist border arts" as a practice that challenges the limits of conventional representation through telling stories from the edge; threshold visions from the margins that create new ways of seeing, that visualize underrepresented ways of knowing. Selected films revive the promise of cinema, the possibility of film & video to open minds, create new vistas, and challenge dehumanizing forms of representation. As bell hooks once wrote: "Feminist politics aims to end domination, to free us to be who we are – to live lives where we love justice, where we can live in peace. Feminism is for everybody." We believe this can also be true of aesthetic and cultural texts/forms like film and video, especially short film and video.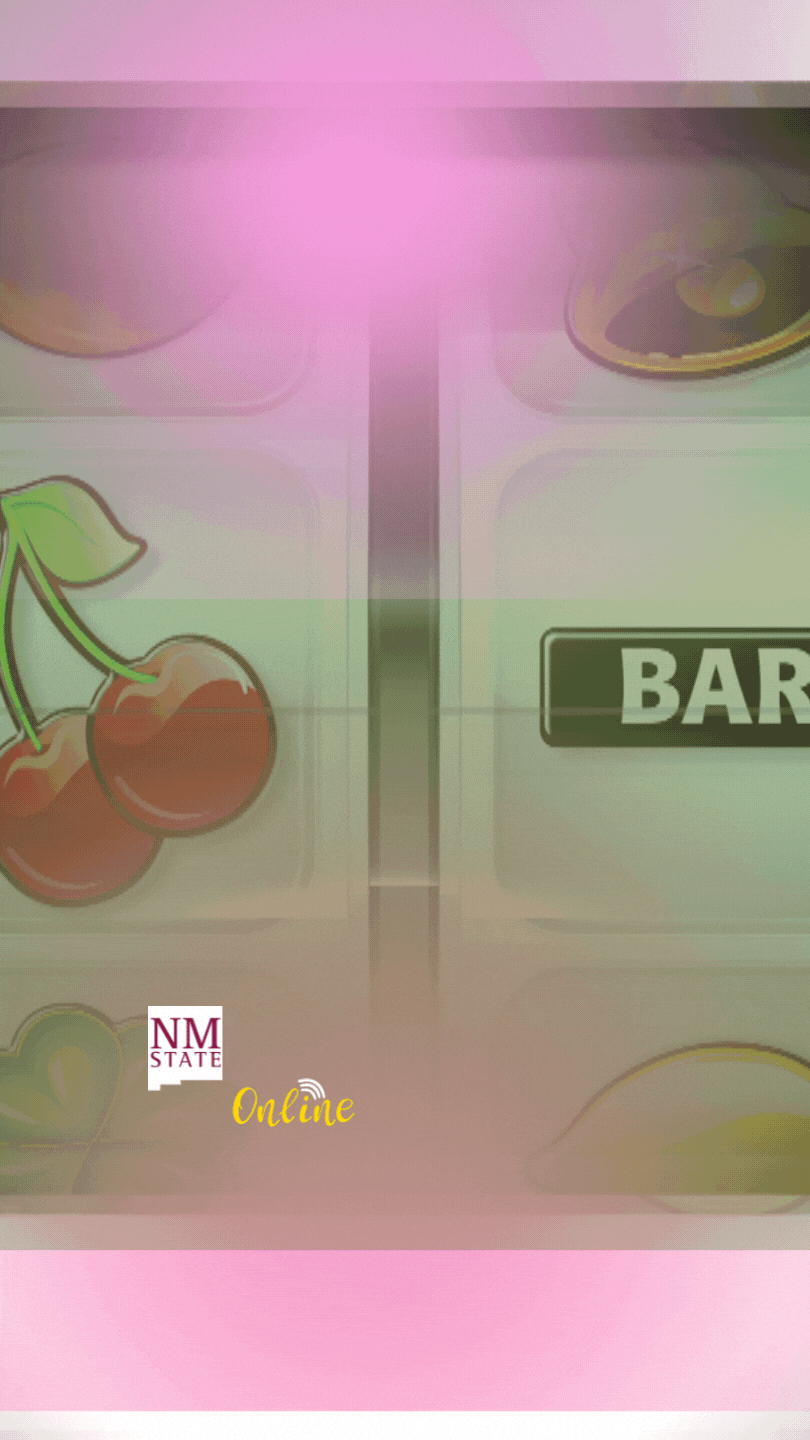 ---
Learn More about FBAFF
---
---